01-08-2006, 04:41 PM
choaslover
Hedge Knight


Posts: 17
Joined: Jul 2006
Reputation: 0
fav charater
who's your fav charater on the game?mine is Irvine.
02-08-2006, 09:32 AM
umm hard choise, mines gotta be rinoa otherwise i would of choose irvine
---
So what if i'm a goth & i use Macromedia Fireworks - Not every one is CS2 Combatible
02-08-2006, 12:36 PM
Nightmare
Administrator


Posts: 212
Joined: May 2006
Reputation: 0
Rinoa coz she's beautiful. Forum member Riku would have guessed.
---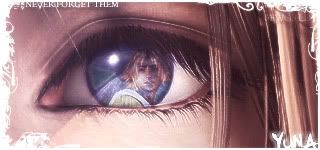 04-08-2006, 08:15 PM
Riku
Hedge Knight


Posts: 10
Joined: Jul 2006
Reputation: 0
such an obvious answer
RINOA, the beautiful black haired pretty faced hot chick (geez guys r so shallow these days
). As for a male character, i like the loner personality of Squall. But fav definitely Rinoa. I sure did guess Chaosweapon :wink:
---
"The only dependable thing about the future is uncertainty" - Amarant, FF IX
26-08-2006, 05:12 PM
Favourite well thats Squall indefinately because he is like me plus my hair grows the same way his does Id look almost like him if i had a Giant Scar between my eyes.
A female choice would have been Rinoa although i may be like Squall at times when i see Squall free Rinoa from her prison at the space station i cant help but cry the Ragnarok scene , i was hysterical Crying like a baby.
15-09-2006, 05:08 PM
Jakki
Moppet


Posts: 3
Joined: Sep 2006
Reputation: 0
Absolutely Squall. His hair is great, and I love the scar (: and what even better, his personality is lovely, one of the best in the series, but still not the best
12-04-2007, 10:52 PM
Squall333
Hedge Knight


Posts: 24
Joined: Apr 2007
Reputation: 0
Re: fav charater
Squall would be my favorite. I thought he had a good personality. He was also probably my strongest character. My second would have to be Selphie. She was awesome and a great limit. I also loved her personality.
05-06-2011, 12:01 AM
RE: fav charater
Rinoa in my case. She's just beautiful and her character is top knotch. Not to mention her Invincible moon and meteor trick in battle.
---
11-07-2011, 05:49 AM
RE: fav charater
Quistis Trepe was my favorite female and Zell was my favorite guy.

Quistis because she was so attractive, intelligent, calm and cool.

Zell because...well, I like spazzes.
User(s) browsing this thread: 1 Guest(s)